3.134 StructureDefinition: Interaction Bundle 305 - Send Clinician communication
The official URL for this profile is:
http://prescribeit.ca/fhir/StructureDefinition/interaction-bundle-305
Communication The communication resource includes the 'message content' and references to any 'attachments' that will be sent as supporting documentation. Along with the technical resource identifier, a business identifier is provided, as well as an identifier that is used to 'thread' all related communications. This allows the software systems to have a common base line and build a list of all related communications that were created as a result of this original. The communication resource identifies the participants of the communication. They are represented by references to various 'practitioner' resources:
Enterer
Reply To
Sender
Recipient
The subject of the communication identifies a Patient. A patient resource is optional. If provided, a communication can only be relevant to a single patient.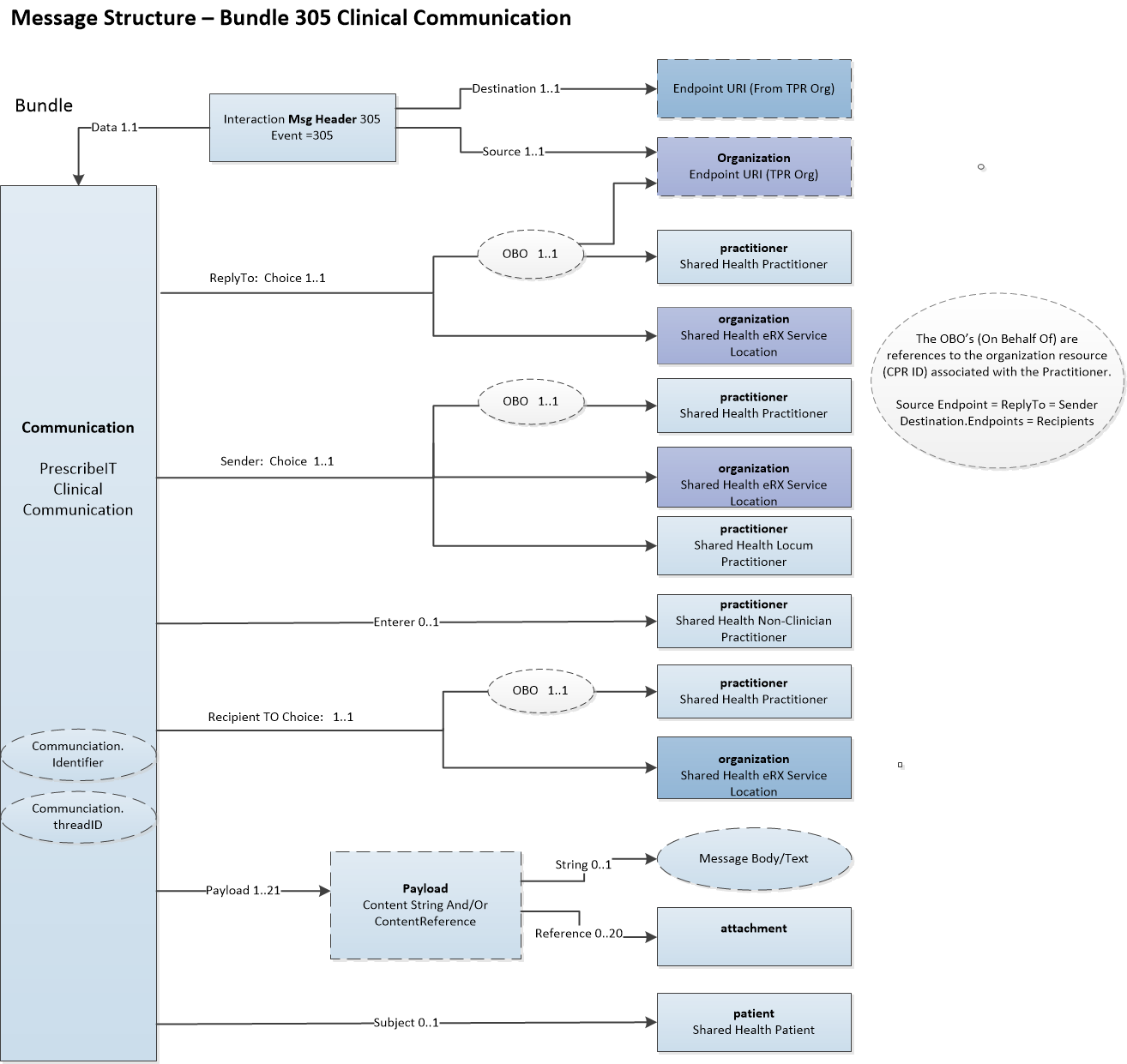 Attachment Management
The sending system will, in the communication resource, assign URLs for each attachment that will be uploaded to PrescribeIT®. PrescribeIT® will temporarily hold the 305 message (configurable – 20 minutes) and validate that all identified attachments are received, before moving the message to the appropriate MailBox. PrescribeIT® will validate each attachment as they are received. If any errors are detected an HTTP 400 error is returned to the sender.
Once a 305 is retrieved from the inbox, a HTTP GET can be sent to retrieve the attachment using the identifier provided within the 305 message. The "GET" is described as part of the base FHIR specification that is built upon the REST protocol. Further details may be found here.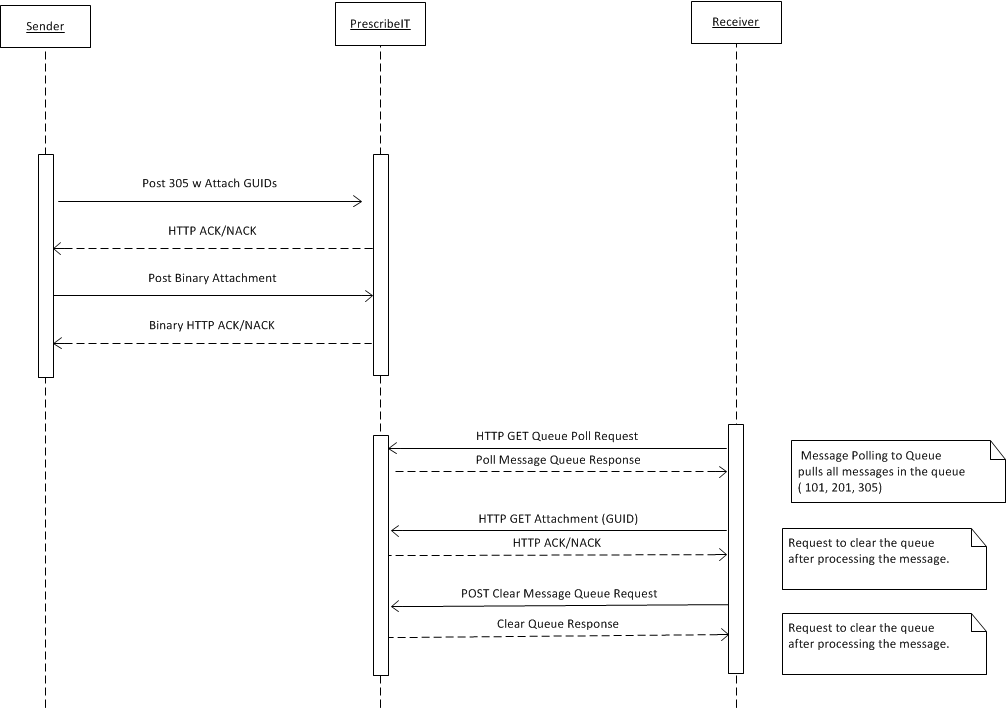 3.134.2

Formal Views of Profile Content

Download Excel representation

Description of Profiles, Differentials, Snapshots and how the different presentations work.

 

Other representations of profile: Schematron
3.134.3

Terminology Bindings
Terminology Bindings
3.134.4

Constraints
Constraints
Id
Path
Details
Requirements
bdl-2
Bundle
entry.search only when a search
: entry.search.empty() or (type = 'searchset')
bdl-1
Bundle
total only when a search or history
: total.empty() or (type = 'searchset') or (type = 'history')
bdl-7
Bundle
FullUrl must be unique in a bundle, or else entries with the same fullUrl must have different meta.versionId
: entry.where(fullUrl.exists()).select(fullUrl&resource.meta.versionId).isDistinct()
bdl-3
Bundle
entry.request only for some types of bundles
: entry.request.empty() or type = 'batch' or type = 'transaction' or type = 'history'
bdl-4
Bundle
entry.response only for some types of bundles
: entry.response.empty() or type = 'batch-response' or type = 'transaction-response'
max1patient
Bundle
Cannot have no more than 1 patient in one message
: entry.select(resource as Patient).count()<=1
headerExists
Bundle
First entry must be a MessageHeader
: entry[0].resource.is(MessageHeader)
groupIdsSame
Bundle
GroupIdentifier values must all be the same within a message
: entry.resource.extension('http://hl7.org/fhir/StructureDefinition/extension-Task.groupIdentifier').value.value.distinct().count()<=1
messageis305
Bundle
First entry must be a MessageHeader with the messageheader-305 profile
: entry[0].resource.meta.where(profile='http://prescribeit.ca/fhir/StructureDefinition/interaction-messageheader-305').exists()
bdl-5
Bundle.entry
must be a resource unless there's a request or response
: resource.exists() or request.exists() or response.exists()
bdl-6
Bundle.entry
The fullUrl element must be present when a resource is present, and not present otherwise
: fullUrl.empty() xor resource.exists()
tbdl-1
Bundle.entry
Full URL must end with resource id when present
: fullUrl.exists().not() or resource.id.exists().not() or fullUrl.endsWith($this.resource.id)