3.91 StructureDefinition: Interaction Bundle 999 - Generic eRx Asynchronous Reject
The official URL for this profile is:
http://sharedhealth.exchange/fhir/StructureDefinition/interaction-bundle-999
This message is used when a destination endpoint identifies that an error occurred 'asynchronously'. An error detected synchronously will be reported as HTTP 4xx or 5xx series, with an operation outcome.
An asynchronous example business scenario would be that a destination pharmacy is registered for 'fax only' and the fax delivery function failed. PrescribeIT® would create a '999' message and post it to the source sender's inbox, so they are aware that their request was not delivered successfully.
A '999' may also be created by the recipient of the message (PMS or Physician office/EMR). If the receiving system determines that they are unable to parse the message, or if they have a business issue (i.e. patient not found) they will create a '999' message and send it to the PrescribeIT®. The message will post the '999' to the appropriate inbox. The originator will receive the '999' when they poll their inbox.
PrescribeIT® also creates a '999' during the 'Aged process'. If a message was delivered through the polling process, but the receiver never 'acknowledged' receipt of it, then PrescribeIT® will create a '999' indicating to the original sender, that the message was not delivered.
The Operation Outcome resource is available to describe the error encountered. Within 'issue' there is the ability to provide a severity and high level error code (that are constrained by binding value sets), but the description will be provided as 'text'.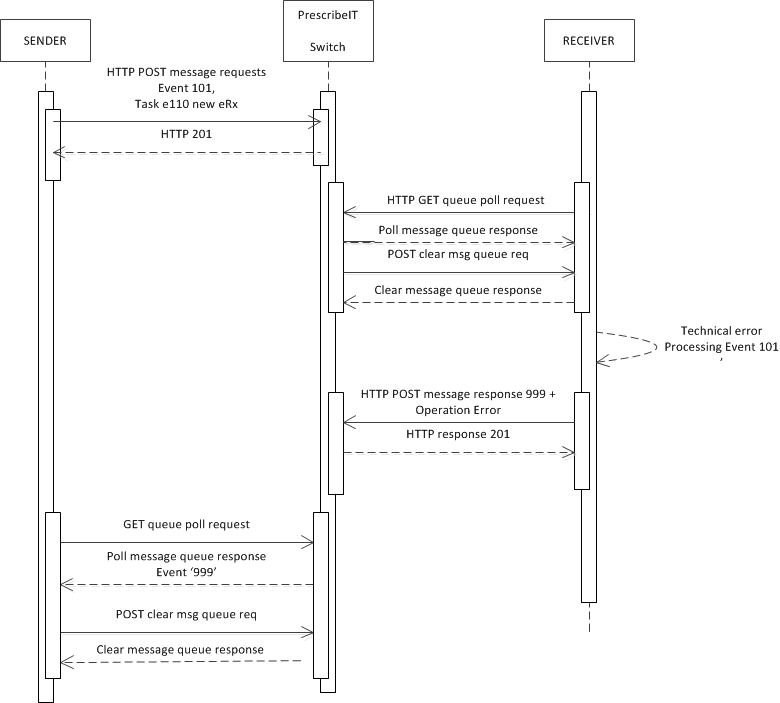 3.91.2

Formal Views of Profile Content

Download Excel representation

Description of Profiles, Differentials, Snapshots and how the different presentations work.

Other representations of profile: Schematron
3.91.3

Terminology Bindings
Terminology Bindings
Path
Conformance
ValueSet / Code
Bundle.meta.security
extensible
All Security Labels
Bundle.meta.tag
example
Bundle.meta.tag:version
required
Fixed Value: Shared5.0
Bundle.language
required
http://tools.ietf.org/html/bcp47
Bundle.type
required
Fixed Value: message
Bundle.entry.search.mode
required
SearchEntryMode
Bundle.entry.request.method
required
HTTPVerb

3.91.4

Constraints

Constraints

Id
Path
Details
Requirements
bdl-2
Bundle
entry.search only when a search
: entry.search.empty() or (type = 'searchset')
bdl-1
Bundle
total only when a search or history
: total.empty() or (type = 'searchset') or (type = 'history')
bdl-7
Bundle
FullUrl must be unique in a bundle, or else entries with the same fullUrl must have different meta.versionId
: entry.where(fullUrl.exists()).select(fullUrl&resource.meta.versionId).isDistinct()
bdl-3
Bundle
entry.request only for some types of bundles
: entry.request.empty() or type = 'batch' or type = 'transaction' or type = 'history'
bdl-4
Bundle
entry.response only for some types of bundles
: entry.response.empty() or type = 'batch-response' or type = 'transaction-response'
max1patient
Bundle
Cannot have no more than 1 patient in one message
: entry.select(resource as Patient).count()<=1
headerExists
Bundle
First entry must be a MessageHeader
: entry[0].resource.is(MessageHeader)
groupIdsSame
Bundle
GroupIdentifier values must all be the same within a message
: entry.resource.extension('http://hl7.org/fhir/StructureDefinition/extension-Task.groupIdentifier').value.value.distinct().count()<=1
messageis999
Bundle
First entry must be a MessageHeader with the messageheader-999 profile
: entry[0].resource.meta.where(profile='http://sharedhealth.exchange/fhir/StructureDefinition/interaction-messageheader-999').exists()
OperationOutcome2nd
Bundle
Second entry must be an OperationOutcome
: entry[1].resource.is(OperationOutcome)
bdl-5
Bundle.entry
must be a resource unless there's a request or response
: resource.exists() or request.exists() or response.exists()
bdl-6
Bundle.entry
The fullUrl element must be present when a resource is present, and not present otherwise
: fullUrl.empty() xor resource.exists()
tbdl-1
Bundle.entry
Full URL must end with resource id when present
: fullUrl.exists().not() or resource.id.exists().not() or fullUrl.endsWith($this.resource.id)